Larry Berk Artist-in-Residence Program
The Artist-in-Residence Program is dedicated to the late Larry Berk, Dean of Library and Information Services, who initiated cultural events that have brought renowned writers, artists, and musicians to the college and the community. All events are open to the public.
This unique program brings an established regional artist to campus for an entire semester to present a series of events to the campus and community-at-large. SUNY Ulster has historically been a rich source of arts programming and the Artist-in-Residence Program is an opportunity to build upon our college relationship with the arts community in the Hudson Valley.
---
2017 Artist: Rebecca Martin
Songwriting Master Class Series
Wednesday, September 20, Wednesday, October 11 & Wednesday, October 25
1:00 - 2:00 p.m.
Vanderlyn Hall, Room 147
Open to all Musicians Enrolled in SUNY Ulster
Over the past 25 years, Rebecca Martin has become a nationally known, critically acclaimed singer and songwriter, educator, and community organizer. A native of Maine, Martin moved to New York City and lived there for a decade before migrating North and landing in Kingston, NY. with her husband, Jazz Bassist Larry Grenadier.
She began her career in the early 90's with her groundbreaking duo "Once Blue" with Grammy winning songwriter Jesse Harris (Norah Jones). The two made several albums on EMI Records, touring throughout the United States and Canada with Lisa Loeb, Emmy Lou Harris, Squeeze, Shawn Colvin, and many others. With eleven solo and collaborative recordings under her belt, Rebecca continues to write, record, teach, and perform all over the world.
Public Event
Special Duo Performance
Rebecca Martin featuring Larry Grenadier
Friday, November 3, 7:30 p.m.,
College Lounge, Vanderlyn Hall
Free and open to the public


---
Spring 2017 Artist-in-Residence
Mary Louise Wilson
Gathering and Q&A session
Tuesday, March 7 at 2:00 pm
Quimby Theater, Vanderlyn Hall

Mary Louise Wilson, Tony and Drama Desk Award-winning American stage, film, and television actress, singer, and comedian. In a stellar theatrical career that has combined plays and musicals, Mary Louise Wilson has been awarded a Tony for Grey Gardens and a Tony nomination for Cabaret . She received critical acclaim for Full Gallop , her solo show about Diana Vreeland, and starred in the off-Broadway premiere of 4000 Miles. Other Broadway credits include Gypsy, The Odd Couple, and The Women.
Meet Mary Louise and gain insight into her incredible career as a performer and teacher. Open to the public. Class Visits Mary Louise Wilson will also work privately with the SUNY Ulster theatre students on scene work, monologues, solo written performances and speaking Shakespeare over the course of the semester (open to SUNY Ulster theatre students only).
---
Fall 2016 Artist-In-Residence
Robert Tonner
Artist, Entrepreneur, & Founder of Tonner Doll Company
Gallery Exhibit, Public Events and Hands-On Work with Students
Robert Tonner, artist, fashion designer, entrepreneur, and the founder of the Tonner Doll Company was named SUNY Ulster's spring 2016 Larry Berk Artist-in-Residence. Tonner, who is internationally renowned for not only his artistry, but business and marketing acumen shared his expertise with the public and students in a series of events during the spring 2016 semester. Called, by the publisher of Fashion Doll Quarterly, "one of the most influential doll designers of all time." Tonner's work has been displayed in the Louvre, and he's been selected to bring book and movie characters like Harry Potter, Superman and Jake from Avatar to life.
Public Events
An exhibit of Tonner's fashion styles, illustrations, photos and dolls was held at the Muroff Kotler Visual Arts Gallery from March 10 through April 15, 2016. An Opening Film/Presentation took place in the College Lounge on March 10 at 7 p.m. in which Mr. Tonner talked about his work.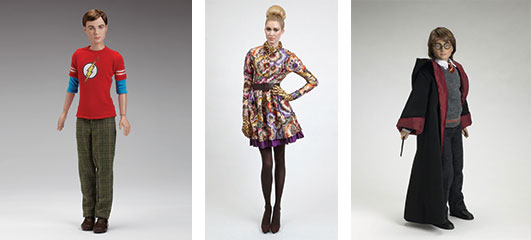 As part of his residency, Tonner will hed a Lecture and Demonstration entitled, 'Observations of a Reluctant Businessman' in Burroughs Hall 120 on March 30 from 1 – 2 p.m. in which he demonstrated his work processes.


Working with Students
From March 14 through April 4, Mr. Tonner worked closely with students in SUNY Ulster's Fashion Design Program. Participating in a three week design project centered around one of his dolls who has had many past lives – Penelope Brewster – he guided students as they conducted research and designed a current wardrobe using style elements, patterns, and colors reminiscent of the period of one of the doll's past lives. Tonner provided feedback and advice on sketches and fabrics, as well as reviewed finished illustrations.
In the Fashion Design Program's sewing studio, Tonner presented his creative process and approach to designing apparel. He comments, "It was an honor to be asked by SUNY Ulster to be the Artist in Residence for 2016. I look forward to interacting with the students and faculty at an institution for which I have great respect. I'm delighted to share my first-hand knowledge of taking my art, whether sculpting or design, and turning it into a commercial venture."
"Robert Tonner has so much to share with SUNY Ulster students," says Kristin Flynn, Coordinator of the Fashion Design Program. "His ability to teach students to not only be creative and innovative, but to hone business skills as well, is a lesson important to anyone looking to succeed in a career in the visual arts."
---
Spring 2015 Artist-in-Residence
Steve Gorn
Master Bamboo Flautist


Grammy winner Steve Gorn, master of the Indian bansuri flute, will present a series of workshops and concerts focused on Indian and World Music as part of his spring residency at SUNY Ulster through the Larry Berk Arts & Cultural Programs.
Gorn of Accord has performed Indian Classical Music and new American Music on the bansuri bamboo flute in concerts and festivals throughout the world. During the past decade, he has performed in numerous venues in India as well as the United States.
Said Gorn of the upcoming presentations: "My goal is to stop time and bring people to that sacred space where heart and mind meet…that's my music."
Free and open to the public, events will be held in the College Lounge and include:
The Universe Hangs on Sound Workshop

, March 18, 2015, 1:00 p.m.
Focusing on India, Gorn will explore the relationship of music to the contemplative arts, the roots in spirituality and the metaphysics of Nada Yoga - the yoga of sound. Through 'call and response,' he will offer an exercise in Indian raga singing.

Luminous Ragas: Indian Classical Music Concert

, March 26, 2015, 7:30 p.m.
Gorn will be joined by

Samir Chatterjee

on tabla to perform ragas from the Hindustani classical music tradition, as well as folk melodies from North India. This music is passed through generations, from master to disciple, as a living oral tradition.

World Music Concert

, April 9, 2015, 7:30 p.m.
Gorn and

Adam Rudolph

, world percussionist extraordinaire, will come together to create a rich mix of luscious melodies from India, with infectious rhythms from Morocco and beyond.

Music in the World Workshop

, April 15, 2015, 1:00 p.m.
Drawing on years of travel, world music performance, as well as recordings and videos, Gorn will illuminate the ways in which music connects mind and body, the individual and society, and humanity to nature.

Steve Gorn, photo by Lucy Lu
---
Previous Artists-In-Residence

Spring 2017: Mary Louise Wilson
Fall 2016: Robert Tonner
April 2015: Steve Gorn
Spring 2014: Joe Langworth, Don Byron
February 2013: Brendan Burke
Fall 2009: Danny Dillon
Spring 2009: Lola Cohen
Fall 2008: Nicole Quinn
Spring 2008: Elliot Landy
Spring 2007: Nina Shengold
Fall 2006: David Sanscious
Spring 2006: Charles Pistone
Fall 2005: Atrie Traum
Spring 2005: Anthony Giaimo
Fall 2004: Bar Scott
Spring 2004: Casey Kurtti
Fall 2003: Robbie Dupree
Spring 2003: Martha Frankel
Fall 2002: Karl Berger
Spring 2002: Wilhelmina Frankfurt
Fall 2001: Johanna Hall
Spring 2001: Kathleen Anderson
Fall 2000: Danielle Woerner
Spring 2000: Larry Packer
Fall 1999: Bill Vanaver
Fall 1999: Gillian Farrell